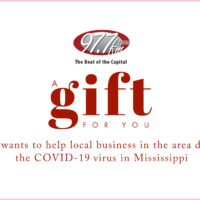 Coronavirus has brought significant disruption to daily life here in Jackson, the United States, and beyond. With local restaurants and small businesses experiencing a number of restrictions on how they can operate in the current climate, we at Roberts Broadcasting are helping our partners, neighbors, and community.
We've set up Operation: Gift Card 7 Delivery Jackson to get the word out on local restaurants and businesses in our area who offer gift cards for purchase on their websites. have one to share with us? Use the form below.
Together, we're going to get through this!