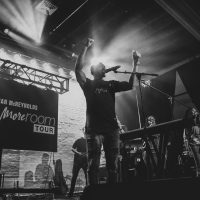 Gospel artist, Jonathan McReynolds just wrapped up a 22 city tour, received 8 Stellar Awards, earned 2 GRAMMY nominations, and its only April.  With no signs of slowing down, Jonathan has been added to Kirk Franklin's Exodus Music and Arts Festival happening May 25, 2019, in Irving, TX and has been named one of the celebrity judges for the return of BET's Sunday Best, along with Erica Campbell and Kelly Price.
Check out pictures from Jonathan's Jackson, MS stop of his Make More Room Tour on April 5 at Duling Hall.
Written by Chandra Wise.  Chandra is the host of the Inspirational Power Hour which airs on WRBJ 97.7 each Sunday from 6 am – 10 am central.
Facebook.com/InspirationalPowerHour
Twitter: @ChandraWise
Instagram: @ChandraWise
Photos x @KeonGibson
Jonathan McReynolds in Jackson, MS
Tags: