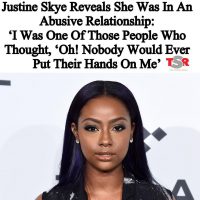 October is Domestic Awareness Month, and Justine Skye has something to let her fans know. She reveals that she was involved in an abusive relationship. Find out more details here.
The Shade Room reports that 'The songstress shares her personal story about being in an abusive relationship in the visuals for her latest track, "Build."'
'I was one of those people who thought, 'Oh! Nobody would ever put their hands on me,'' Justine shared in an interview with Billboard.
TSR reports that Justine continued and said that 'standing up to [domestic violence] is extremely important' because 'it can happen to anyone.'
Read more of this story today –> http://celebrityinsider.org/singer-justine-skye-reveals-she-was-in-an-abusive-relationship-here-are-the-details-206006/