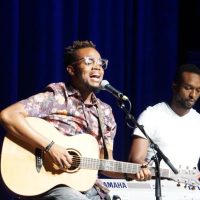 Mississippi Gospel Music lovers had a unique opportunity to experience an intimate conversation and performance with Gospel artist, Travis Greene.  The GRAMMY Museum© Mississippi  located in the heart of the Mississippi Delta (Cleveland, MS) kicked off Gospel Music Heritage Month with the 2 time Grammy nominated singer on Tuesday, September 4, 2018.
Audience members of all ages were captivated and inspired throughout the evening.  The host for the event, Pat Mitchell-Worley, engaged with Greene in an intimate conversation about his childhood beginnings, his commitment to family, ministry and global mission work, and his musical and spiritual philosophies.  Not shying away from questions regarding his performance at the 2017 Inaugural Ball for President Donald Trump, Greene remains committed to his musical and ministry calling to "engage the culture".
Ending with a brief Q&A from audience members, the event also featured a spontaneous and moving sing-a-long performance of some of Travis' biggest hits including "Intentional", "Made A Way", and "You Waited".  One attendee remarked, "It really was an opportunity to get to know Travis Greene and hear the stories behind the songs."
Earlier that day, The GRAMMY Museum© Mississippi presented a similar event for approximately 120 students from the Mississippi Delta.  As a part of their educational program, Travis Greene shared in a conversation and special performance for participating students.
"The inspirational and hope that only Gospel Music can bring permeated throughout the Sanders Soundstage.  Travis Greene has truly been gifted with a voice that resonates with all generations." (NaCherrie Cooper, Marketing and Communications Manager for The GRAMMY Museum© Mississippi .)
Travis Greene can be seen this fall on tour with Elevation Worship and plans to kick off a new tour in the spring of 2019.  Travis Greene and his wife, Dr. Jackie Greene, are the co-pastors of Forward City Church in Columbia, South Carolina.
Continuing with its celebration of Gospel Music Heritage Month, The GRAMMY Museum© Mississippi will also present two additional events centered around Gospel Music during the month of September.  The Gospel Showdown choir competition will be held on September 15th and the Gospel Roots Family Day will take place on September 29th.  For more information, visit www.grammymuseumms.org.
Written by Chandra Wise
Pictures by Chandra Wise
Chandra Wise is the host of the weekly gospel radio show, The Inspirational Power Hour which airs Sunday 6am-10am (central).

An Evening With Travis Greene at The GRAMMY Museum© Mississippi
Tags: