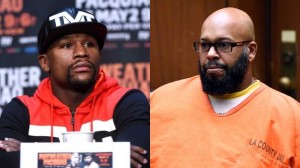 Suge Knight won't be getting bail money from Floyd Mayweather, TMZ reports.
Knight's attorney, Matthew Fletcher, said today that the professional boxer would be putting up the percentage needed of the $10 million bail to get his client released. Mayweather's "Money Team" says otherwise.
According to his inner circle, Fletcher was misinformed in stating that Mayweather would give up the funds if he wins this weekend's bout against Manny Pacquiao.
Knight has been locked up since a January hit-and-run that killed victim Terry Carter. Another man, Cle "Bone" Sloan, was injured as well, and admitted to instigating the fight with Knight that led to the hit-and-run. Knight pleaded not guilty to murder today, and his trial will begin in July.
| CLICK TO READ TROUBLE MAN: A HISTORY OF SUGE KNIGHT DRAMA |
Fletcher says Knight's family told him Mayweather was covering bail. He previously dropped Mayweather's name at a court hearing last month.
Mayweather and Knight were reportedly friends, but haven't had contact in several years.